Lighting is an integral part of a smart home system where automation can deliver great benefits. It can produce lower energy usage to possibilities in enhancing interior design, many different smart lighting controls, and advantages to properties that are often undermined by homeowners. That's one of the most common points in a smart home system, offering easy-to-use options to implement. You can install hard-wired light, switch right into your walls, use an app-enabled smart plug, or just swap your light bulbs with smart bulbs that have the capability to connect to your local Wi-Fi network. For better set up a whole lighting system, however, you're going to need to have a plan. If you want the best way to create a plan, is to figure out how you want your lighting system to work. Here are some examples of the great benefits of integrated whole-house lighting systems that show the incredible value smart lighting can add to your lifestyle.
LIGHTING OPTIONS
It's time to pick up one now that you know just how useful a home lighting control device can be. You'll need to think about the cost of integrating with other smart devices like your security system and how the protocol will make things simple for you. It is key to configuration considerations, and you can take a look at its features and how simple it is to use.
Some of the most common lighting systems that can really make your day brighter are here:
1. Philips Hue
This is a wireless home lighting control device that has gained a lot of attention from technical and consumer reviewers have gained a lot of attention from technical and consumer reviewers. The version of the Hue Connected is very pricey, but the Hue Lux Starter Kit allows you to dip your toe in the Connected for about half the price. It is extremely sophisticated, and particularly with IFTTT integration, it allows you to do multiple automation. So, with the "if this then that " recipe, you can do all kinds of things, such as making a light wink or flash blue when you receive a notification from Facebook. Yes, it is so flexible. It's incredibly useful even in its simplest, and its configurations can be much more complex. For everyone in the building, you can use the lights as an alarm, so you can wake everybody up with blinking lights at 6 AM. Play music for your party, and with the music, the lights will flash in time.
In addition to a wireless base that can fit up to 50 light bulbs all over the home, the starter kit includes 3 light bulbs.
2. Lutron - Smart lighting and blind controlled from anywhere
You don't need to purchase smart bulbs to experience smart lighting with RA2 Select smart dimmers. Additionally, with a lot less investment, because each dimmer switch can control several bulbs, you get a lot more control.
Lighting control is smarter at the switch
Switch off smart bulbs at the switch inadvertently and they stop working. With RA2 Select, that can't happen.




Bulb freedom
Smart regulation of the lighting at the switch ensures you are free to use almost every dimmable light bulb.




Most connected
RA2 Select works with more devices than any other brand in lighting, so you can incorporate other devices and be sure that together they will play well.




The hub
The Key Repeater Hub provides quick, stable control that doesn't make your Wi-Fi slow down.




Blinds
With RA2 Select, Lutron smart blinds work seamlessly to monitor all the lights in your home for ultimate convenience and protection.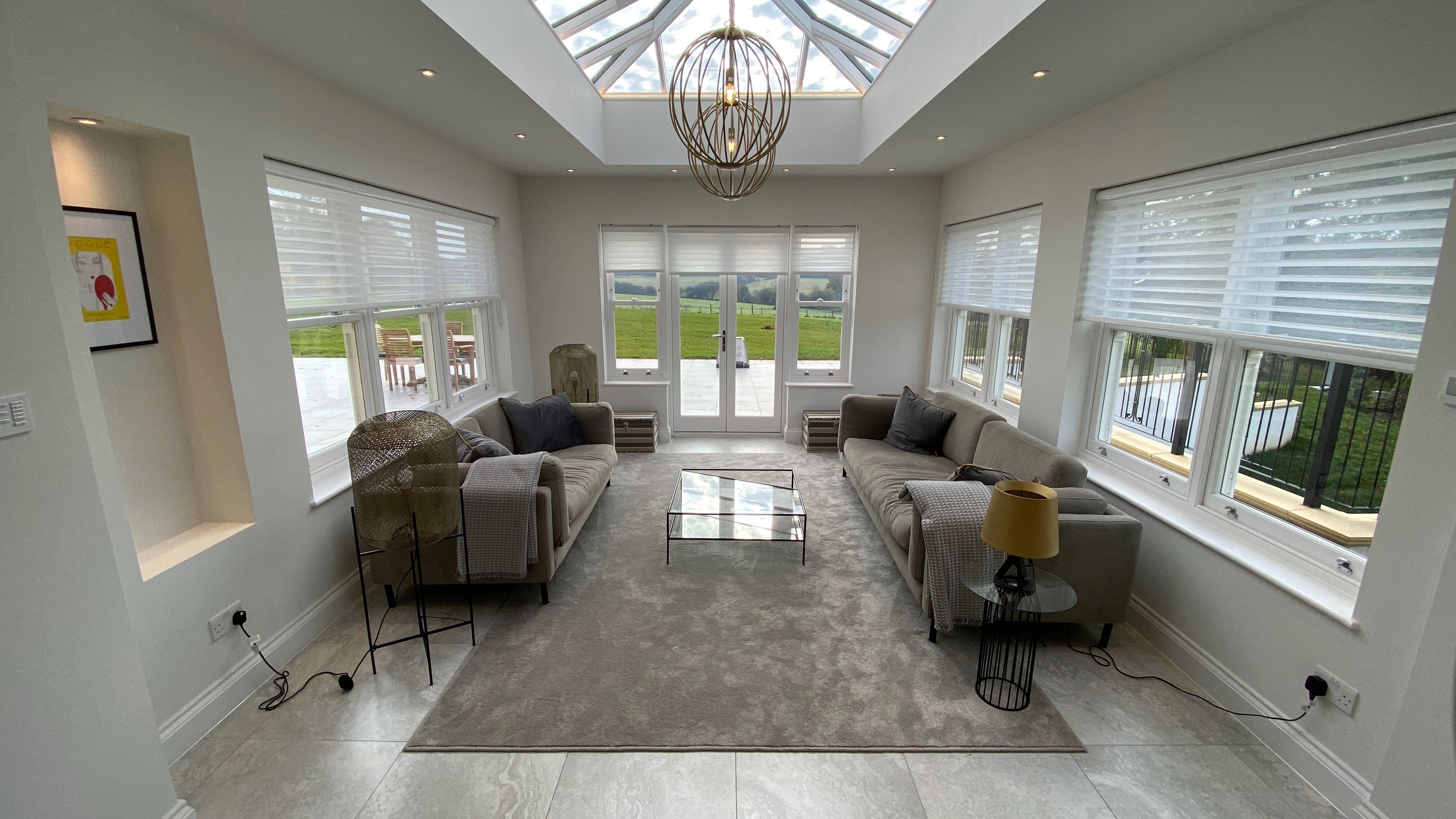 SCHEDULING
Set the light to turn on or off every day at a certain time, synchronize with sunrise or sunset to control the light without fail, even when the season shifts.

SCENES
By creating a scene, monitor one or more lights at the same time – so you can change a room from "Cooking" brightness to "Relax" mood in no time, then switch off all the light right from your bed when it's bedtime.

SMART AWAY
And when you're not, look like you're home. Using Smart Away to turn your lights on and off randomly in the night to give the illusion that you are home – even if you're out on holiday for the night or away.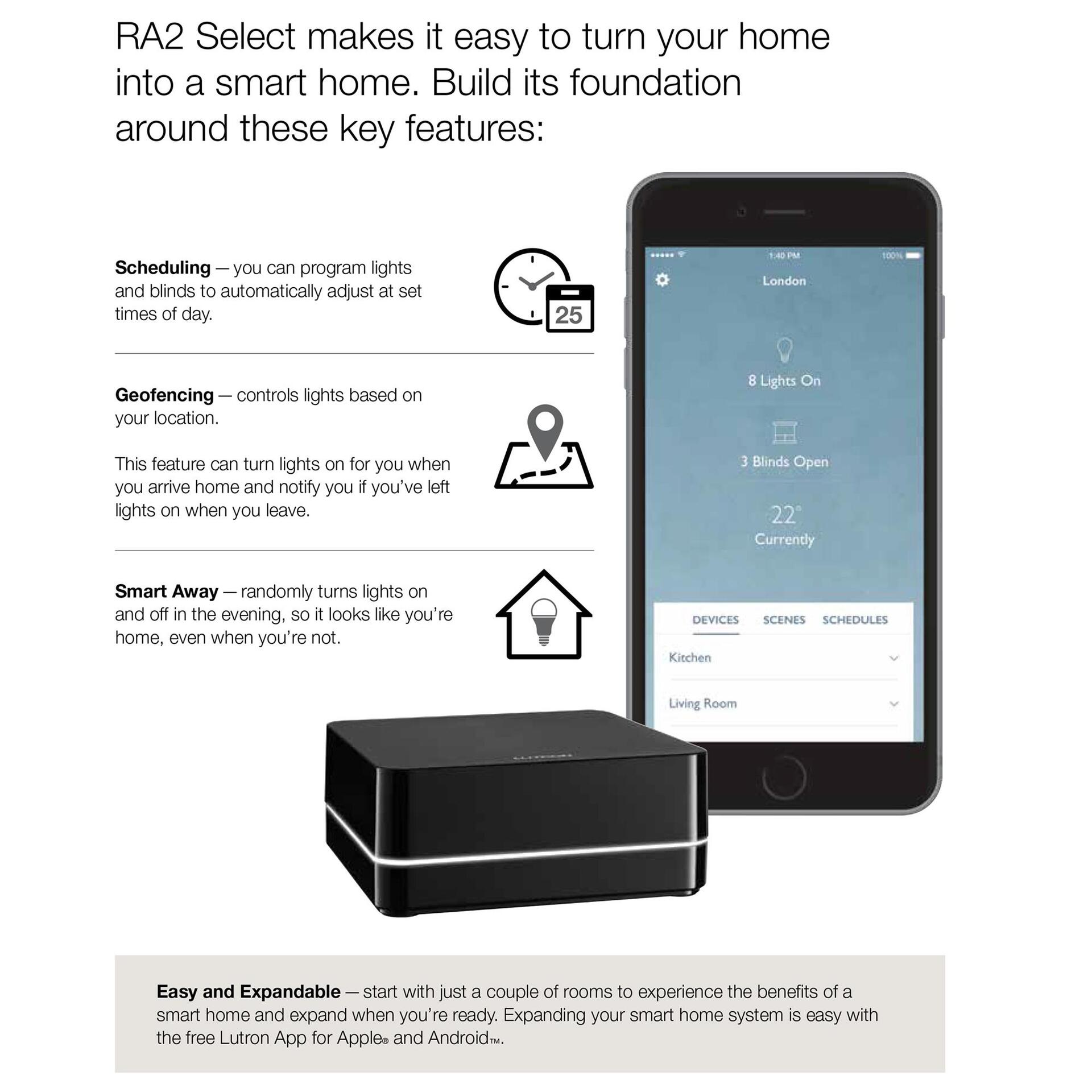 LUTRON ARE THE MOST CONNECTED SMART LIGHTING CONTROL BRAND
RA2 Select operates with more smart objects than any other brand of smart lighting. The means that as you grow, you can smarten up your home one room at a time and easily manage all your gadgets.
CONCLUSION
If you're new to home automation, starting with smart lighting is your best choice. As long as you don't need complex setups, simple smart bulbs can be very inexpensive. But you'll need to get the IFTTT integration feature if you're integrating these lights with the rest of your smart devices. You can switch on and off the lights with your mobile, and get them to turn on, dim, blink, or change colors. Your lights will really brighten your day right now!
If you have any questions about your future smart home, please contact us.